Ask anyone in Los Angeles what their favorite part of LA is and I bet you half of them will say leaving LA! Me, being one of them, planned the perfect southwest road trip through Nevada, Arizona, and Utah.
I started my trip midday from Los Angeles, if you are travelling from outside LA you also fly into Las Vegas and rent a car. Continue reading if you love road tripping and hiking, stop reading if you hate nature.
Day 1
Drive to Las Vegas. *Obnoxiously yells 'Vegas Babyyyy!* What road trip is complete without a trip to sin city? I left LA at midday to arrive in Las Vegas around 5:00 pm. I recommend leaving LA at this time or earlier so that you don't hit a lot of traffic.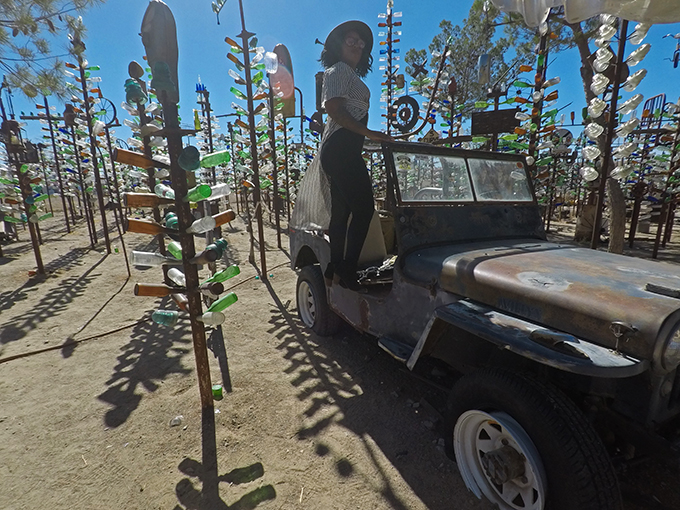 On the way, I stopped at two attractions that were free! First was Bottle Tree Ranch which is located outside of Barstow. Bottle Tree Ranch is the creation of a man named Elmer who decided to make a forest out of metal pipes with branches of bottles hanging from them. It is definitely a one of a kind sight! The ranch is open from sunrise to sunset and walking through is free, but Elmer also accepts donations.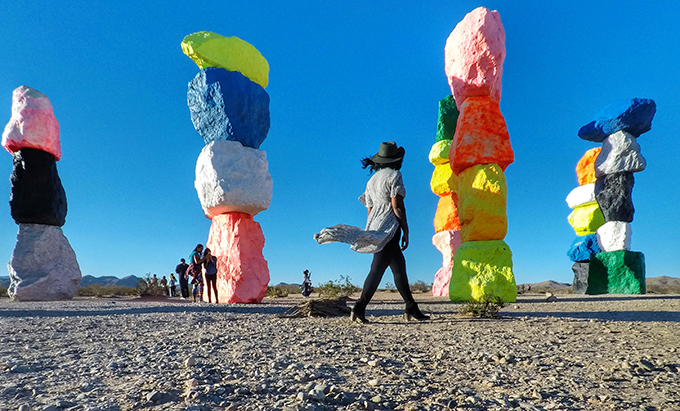 Next, I stopped at Seven Magic Mountains. Seven Magic Mountain is a free art exhibit created by Ugo Rondinone. It is literally seven pillars made of boulders and painted in iridescent colors. I had seen plenty of photos beforehand and knew that I absolutely had to visit these colorful mountains. Seven Magic Mountains is only a two year exhibit so definitely check it out while you can!
It was only a short drive from Seven Magic Mountains to Vegas and I stayed in Vegas for the night. I've been to Vegas plently of times so I didn't partake in any clubbing or gambling this time. (Trying to save them dollar dollar bills yall!) So, party if you please, but don't loose all your money on the blackjack table!
Day 2
I got an early start on Day 2 and left Las Vegas around 3:00 am. Mainly because I wanted to see the sunrise at Horseshoe Bend, but also because I was rudely awoken by the neighboring hotel guest who were stumbling in from the bar.
It's about 4 hours from Las Vegas to Page, Arizona if you don't speed. And don't speed, because it's a $120 citation in Utah for going 5 mph over the speed limit. Trust me, its not something you want at 5 am!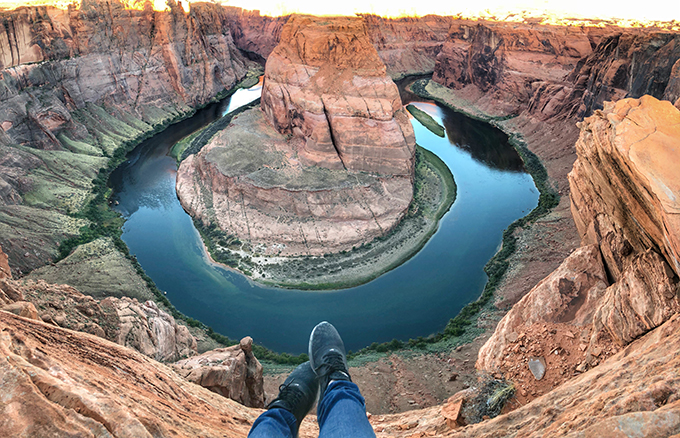 Horseshoe Bend is easily one of the best kept secrets of Arizona. Seriously, there were more foreign visitors than English speaking ones. Sunrise at Horseshoe Bend was absolutely beautiful, but if you decided to sleep in in Vegas, it is also stunning at sunset. I recommend bringing a blanket and a hot coffee because it is pretty cold in the Arizona desert before the sun comes up!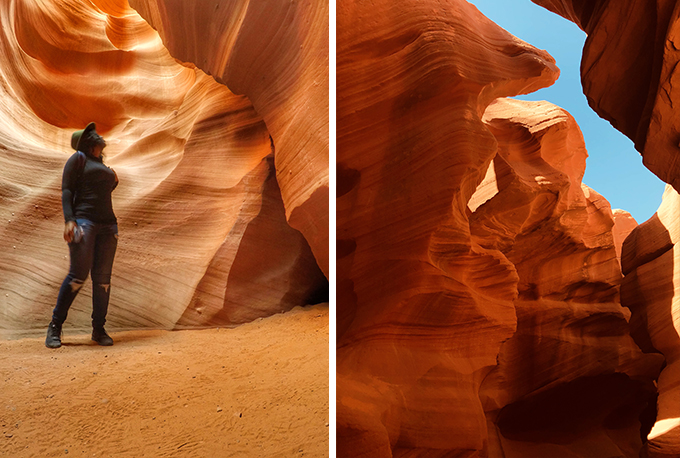 After Horseshoe Bend, I headed over to Antelope Canyon for the Lower Antelope Canyon Tour. You can only access the canyon by doing a tour. I booked mine with Ken's Tours, but honestly I didn't see a difference in the two operators since we were both intermixed once we entered the canyon. Ken's Tours also offers a photography tour for a bit more. I would recommend doing the photography tour if you are interested in getting photos without other people in them. I got yelled at a number of times for trying to hang back and get pictures with only me in them. Do it for the gram, right? Tripods also are prohibited on the regular tour.
Pro tip: If you are shooting photos on an iPhone, using the Vivid Warm filter is the best for bringing out the orange-y canyon hues. It makes the sky extra blue as well!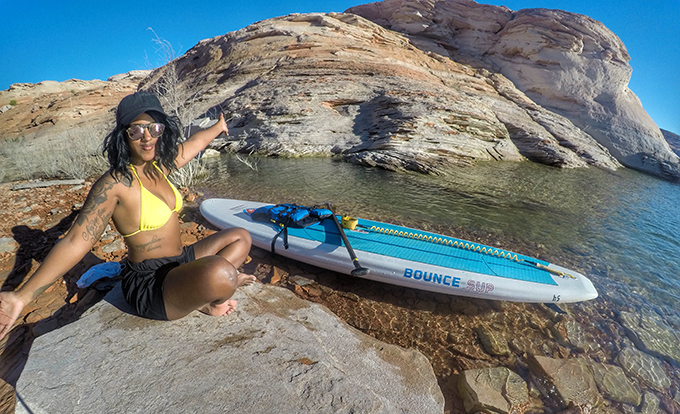 Next, I went paddle boarding through Lake Powell. Lake Powell is extremely beautiful to paddleboard through because you can actually go back through the slot canyons. Just be sure to watch out for some of the bigger boats when you're back in the canyon because they can cause quite a wake and almost knock you off your board. I rented my paddleboard with Lake Powell Paddle Boards. They were extremely nice and showed exactly how to get to the lake, where to park, where to paddle etc.
Pro tip: This road trip involves going to two National Parks; Glen Canyon National Park and Zion National Park. It's worth the money to purchase the annual National Park pass instead of paying individual fees. The Annual NP Pass is only $80 and its good for a full year. (Recently, there's been discussion about raising the daily park fee to $70/day so you should definitely get an annual pass now before the price goes up!)
I spent the night in Page at a local hotel. There aren't many options for hotels in Page, AZ since the town is so small so they can be a bit pricey. If you're traveling on more of a budget or just feeling adventurous, you can totally camp on Antelope Island in Lake Powell. One of my favorite travel bloggers, Alyssa Ramos did it and made an awesome video about it here!
Day 3
Day three was probably my favorite of this roadtrip! I left Page at around 8 am and drove to Zion National Park, Utah. The drive took about 1 hour, 45 minutes. I decided to do the Narrows hike during my first day in Zion so I head to Zion Adventure Company to pick up my rental gear first. The Narrows is a one of a kind hike through typically knee high water. I'm always cold, so I rented the cold water gear which included: waterproof pants, neoprene socks, boots, and a walking stick. All together it cost about $43 for the day rental.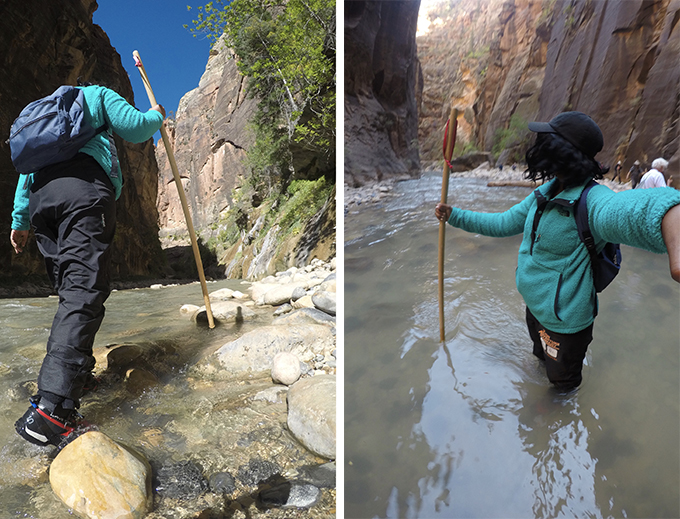 Pro tip: Get the walking stick! Its free and it actually helps tremendously with keeping your footing when the current gets strong or it gets really rocky!
Pro tip #2: Driving this route takes you all the way through Zion NP and to rental company which is located just outside the park. So make sure you take your NP Pass, or money for the entrance fee, with you! I left mine in the car and had to plead with the guy at the counter not to make me walk 20 min back to where my car was parked. *Cue puppy dog eyes*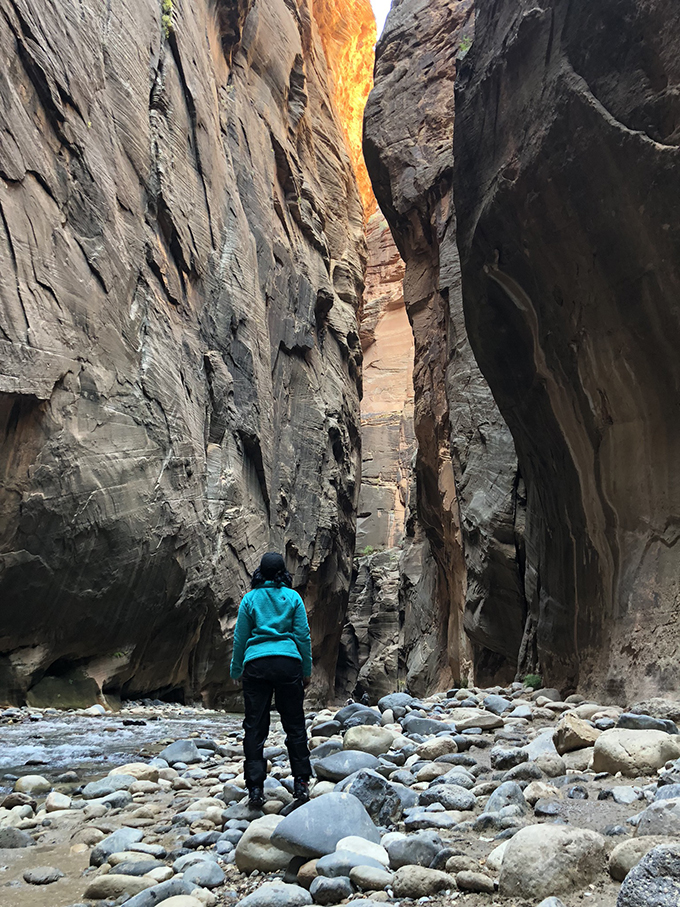 I spent the whole day exploring The Narrows! The hike to wall street from the bottom up takes about 2-3 hours. (More if you stop like I did for a million photos) Surprisingly, it only took about 2/3 of the time to hike back out. If you are on the fence about this hike, don't be! It is an absolute MUST for anyone in Zion! I also saw someone hiking the Narrows with their cat…not sure if the cat was enjoying it, but if a cat can do it, so can you.
I decided to call it a night after returning the Narrows rental gear to Zion Adventure Company. Luckily, the campground across from ZAC had an open spot so I decided to camp out for the night. This was actually a great spot because I was close enough to make it really early back to Zion for day four!
Day 4
Day four was another early start in Zion National Park. After packing up my sleeping bag and tent, I headed back into the park. There was actually no one at the entrance stand since I was there so early. Yay, no fee! (Although, I have the annual pass so it would have been free anyway)  Zion National Park is open 24 hours, but the first shuttle from the Zion visitor's center to Angel's Landing starts running at 7:00am. The Angel's Landing hike can get pretty dangerous when its congested so you will want to start this hike as early as possible.
Angel's Landing is my second favorite hike ever! (Second to the Narrows) The hardest part is the beginning and Walt's Wiggles (just 21 steep switchbacks…), but I promise you, the 1,488ft view up high at the end is worth it! If you're afraid of heights, there a spot where you can wait back at the top before the last half mile which is made up of chains, bolted in the mountain wall.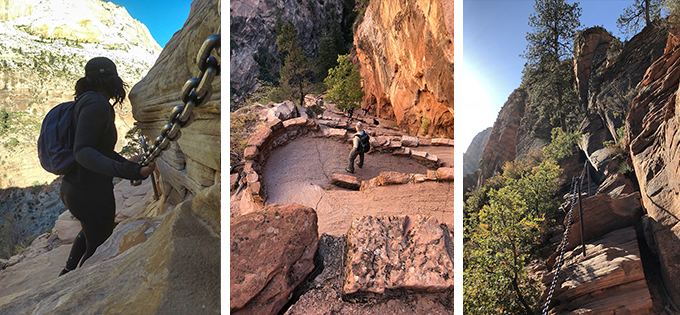 The Angel's Landing hike is only 5 miles roundtrip, so actually pretty short. I did it in about 4 hours. Again, I recommend going as early as possible. Once you reach the last half mile the trail is mostly one way traffic since you have to hold on to the chains that are bolted in to the mountain. It can get really congested and even dangerous. (Really! There's a sign posted saying that 6 people have died doing this hike)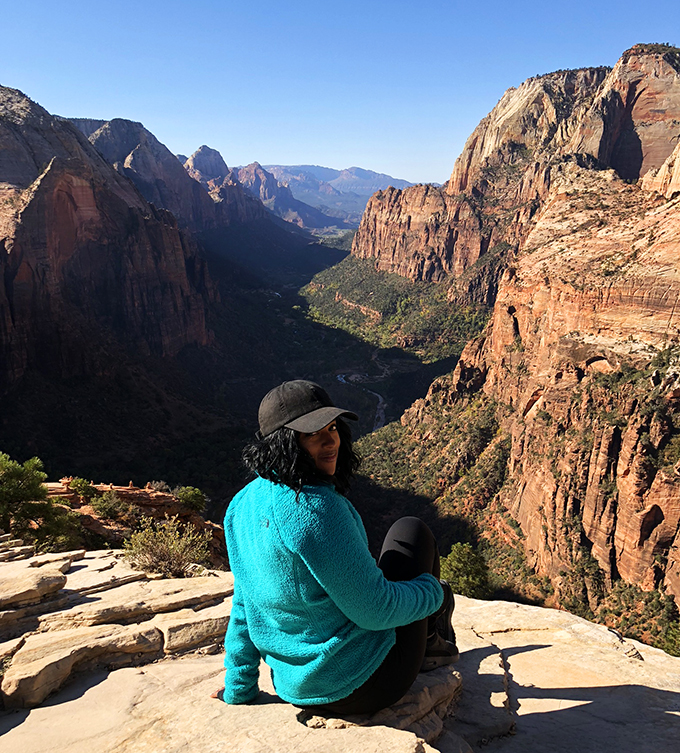 On the way back to the car park I walked back around the Emerald Pools trail. Apparently this trail only looks appealing after a strong rain because it wasn't very impressive during my trip.
Leaving Zion National Park, I headed back, driving straight to Los Angeles. The direct trip back took about 8 hours. (Not including stopping for dinner at Cracker Barrell in Las Vegas – my guilty pleasure)
Final Thoughts
I had an amazing 4-day road trip driving through Nevada, Utah, and Arizona. Unfortunately this trip was cut to only 4 days since that was all that my work schedule would allow. Here are some more recommendations if you have more time:
The Grand Canyon – I've visited the Grand Canyon numerous times and since I was travelling solo this time, I didn't make it a stop on this trip. But, if you haven't been before, you should definitely go!
Havasu Falls – Havasu Falls is another best kept secret in the U.S. Havasu Falls is located in Havasupai, Arizona and you'll need a permit to complete the hike but the waterfalls are absolutely amazing. You can read more about my trip to Havasu Falls here.
Also, I did this drive solo, so it's totally doable by yourself, but it is a lot of driving and I am very much a morning person. If you hate driving, or dont like waking up early, bring someone else with you 🙂
Have you roadtripped through the southwest? What are some of your favorite stops along the way?
Like it? Pin it!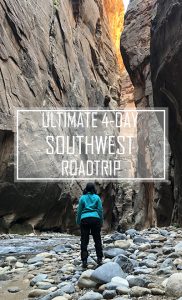 Please follow and like us: